Author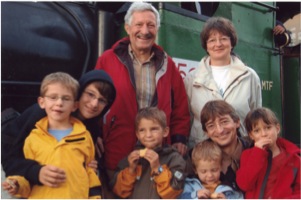 Back: Claude Lanners and daughter Martine Ruiz-Lanners
Front: Bob Lanners, Daniel Ruiz, Nick Lanners, Pit Lanners, Michel Lanners, Laura Ruiz
Photo Edmée Lanners-Thein 9.2009 Pétange
Claude Lanners was born 18 July 1939 in Dudelange, Luxembourg. He married Mariette Eicher in 1963 and the couple has two children, Martine born 1965 and Michel born 1968, and 5 grandchildren. They live in Luxembourg City, since 2010 in a condo due to Claude's reduced mobility as a consequence of ALS.
During his professional life Claude was a civil servant working for the Ministry of Economy in the economic development area and promotion missions to the United States gave him the opportunity to visit his Bormann relatives in Madison, MN and St. Joseph, IA. No information was around in those days about possible Lanners relatives in America.
From his mother, a granddaughter of Michel Bormann and Pauline Link of the Broch house in Oberfeulen, he inherited his interest in family history and he spent most of his time when retired researching and writing down the history of the Lanners, Hottua and Bormann families.
Suffering from ALS, after resisting valiantly for many years, Claude passed away in peace on the evening of May 30, 2012. A book of condolence is kept here, and an obituary is published here.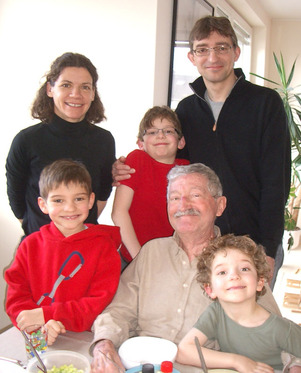 Edmée and Michel Lanners-Thein with the kids Nick, Bob and Pit, surrounding Claude
February 19, 2012
Michel Lanners is the webmaster who builds and maintains the site. He is an electronics engineer and lives with his family in Luxembourg City.